Actor, Entertainer, Author And Columnist
2020 AirPlay Direct Evolution Grant Artist
2020 Chamber Business Person Hall of Fame and
Catoosa County Patriotic Citizen of the Year
2020 www.HillbillyLove.com Featured Artist
2019 America's Old Time Country Music Hall of Fame
#1 Global Americana AirPlay Direct Album June 2019
Actor/entertainer Randall Franks is best known as "Officer Randy Goode" from TV's "In the Heat of the Night," a role he performed on NBC and CBS from 1988-1993 and now on MeTV and other channels. He was part of cast of three other TV Series including Robert Townsend's "Musical Theater of Hope" which aired on UPtv (Gospel Music Channel). His latest film is "The Crickets Dance." In the film "Broken," he stars with Soren Fulton, Felix Ryan, Bailey Borders and Joe Stevens. In another film "Lukewarm," he starred with John Schneider, Nicole Gale Anderson, Bill Cobbs, Jenna von Oy and Jeremy Jones. He starred with Natalie Grant and Billy Dean in the teen drama "Decision" and in "The Solomon Bunch," a children's adventure, Randall does a comedic cameo. As an actor, he has co-starred or starred in 15 films with stars such as Elizabeth McGovern, Mia Wasikowska, "Doc" Tommy Scott; William Hurt, Dolly Parton, Stella Parton and Christian Slater.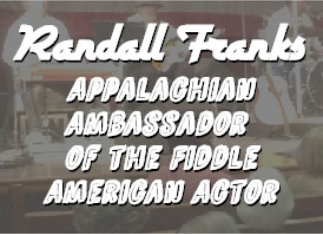 The International Bluegrass Music Museum in Owensboro, Ky. honored him as a Bluegrass Legend in 2011. He was inducted in 2013 into the Independent Country Music Hall of Fame. For a decade he served as Celebrity Host of the Grand Master Fiddler Championship at the Country Music Hall of Fame and Museum and IBMA. Franks' musical stylings have been heard in 150 countries and by more than 145 million people. His musical career boasts 24 album releases, 21 singles, and over 200 recordings with various artists from various genres. The award-winning fiddler's best selling release, "Handshakes and Smiles" was a top twenty Christian music seller. Many of his albums were among the top 30-bluegrass recordings of their release year. Radio took his "Americana Youth of Southern Appalachia" and his "In the Heat of the Night – Christmas Time's A Comin'" albums to #1 in the AirPlay Direct Global Albums Charts in 2019.

AirPlay Direct selected him as the first "2020 Evolution Grant Artist."
"We believe in the determination of our industry to not only survive this tragic time, but to evolve, learn and grow during the process," says Lynda Weingartz / CEO – AirPlay Direct. "Our new "2020 Evolution Grants" program was created to support, educate and enrich the global music community, both artists and small businesses alike. Randall is a gifted artist and we are proud and honored to be working with him to help grow his brand and career."
Radio may reach links to many of his albums to download for airplay at www.AirPlayDirect.com/RandallFranks/
The Atlanta Country Music Hall of Fame member shared a top country vocal collaboration with Grand Ole Opry stars The Whites. In addition to his solo career, Franks is a former member of Bill Monroe's Blue Grass Boys, Jim and Jesse's Virginia Boys and has performed with Jeff and Sheri Easter, The Lewis Family, the Marksmen Quartet, Elaine and Shorty, "Doc" Tommy Scott's Last Real Old Time Medicine Show and Doodle and the Golden River Grass.
An award-winning journalist and columnist, Franks has authored nine books including his latest "Encouragers III: A Guiding Hand." Some among his other titles are "Encouragers II : Walking with the Masters," " A Mountain Pearl: Appalachian Reminiscing and Recipes" and "Whittlin' and Fiddlin' My Own Way : The Violet Hensley Story." Franks is completed his first work of fiction: "A Badge or an Old Guitar: A Music City Murder Mystery." He is currently working on a book featuring a collection of his writings entitled "Frankly Speaking: Thoughts on This and That."

Another career in mainstream journalism began in 2001 in association with News Publishing Co. His syndicated slice of life and entertainment column "Southern Style" is used in numerous publications. Many readers equate his folksy style to that of the late columnist Lewis Grizzard. A new column appears each Wednesday at this site. Sign up for weekly topic reminders.
His love of writing blossomed into scriptwriting under the tutorage of Carroll O'Connor during his time on "In the Heat of the Night," which yielded him the unique opportunity to write or co-write numerous screenplays. He also studied under some of television's veteran TV directors spreading his wings professionally first as a film producer and later as a director. His initial directorial work was for music videos and later for PBS creating the documentary film "Still Ramblin': The Story of American Showman Ramblin' 'Doc' Tommy Scott." As a director has also created dozens of hours of entertainment content for the web.
Franks shares his time with several non-profit organizations and is a past president or officer with the Lions, Kiwanis, and Exchange Club. He serves as the past president of the Catoosa Citizens for Literacy, which assists area residents in learning to read and pursuing a GED at its Catoosa County Learning Center. He is also president of the Share America Foundation, Inc. that provides the Pearl and Floyd Franks Scholarship to musicians continuing the traditional music of Appalachia. He hosts a concerts which help fund the scholarships. Franks also serves his hometown of Ringgold as an elected city councilmember and appointed official on numerous boards. (Photo: Copyright 2017 Randall Franks Media: Anna Ritch)
Order Randall's New T-Shirt
The American's Creed
A minimum of 20 Advance Orders will be accepted before production.
If not reached by May 30, orders will be refunded.
These patriotic shirts commemorate his upcoming film and music project.