I reached over and turned off the 5:15 a.m. alarm. Rubbing my face with my hands, I wiped the sleep from my eyes as I threw back the covers and headed towards the bathroom to wash myself awake.
The hotel room looked like many others that I stay in week after week when I am on the road to share my music, so I finished getting ready, slipped into my suit and carried down my bags and instruments and loaded the car and made my way to the breakfast room by 6 a.m. to eat a bite before taking the twenty -minute drive to the church from Americus.
The country roads were still dark in rural Georgia as I drove the route. I knew it, I had performed in the town before but this was the first time for this church. The parking lot was filling up and George Williams was ahead of me with a flash light to direct me into a parking spot. George was giving out numbers to the arriving cars which they would use for seating in the church.
When doing a morning worship service at a church, it is not unusual to arrive at least two hours early to unload and set up, but on this day, I needed to be ready to go in the back door of the church around 7:30 a.m., so I got there even a little earlier and set my table up with my books, DVDS and CDs on the porch of the church. As I set up, folks began coming from their cars and lining up at the edge of the porch. I visited with folks who shared they had traveled from Michigan, Minnesota, and countries around the world. Some said they arrived at 5 a.m. to be sure they got a seat. Rather than stowing away all the empty boxes under the table, I left them accessible for a reason I will reveal soon.
So back to the car I went, picked up my instruments and sound equipment and headed for the back door where stood a neatly dressed man in a suit with a communication device in his ear. He had a wand in his hand searching folks before they entered. My instrument cases and equipment boxes all had to be searched also, but additional suited men and a sniffing dog came to do that while not missing a box, compartment or hidden corner in their review. Once complete, I was ready to be wanded and once passed, bring everything into the sanctuary for set up.
By this time, it was about 7:40 and I was greeted by Jan Williams who gracefully coordinates everyone's arrival and gets them where they need to go.
I tuned and staged my instruments set my equipment working with another volunteer and awaited the sound tech Bill for final checks closer to time.
Soon the volunteers were seating the guests, who had all be searched before entering, by their assigned numbers. Congregational seats were already designated and the guests were soon filling the remainder of the pews with overflow available in the fellowship hall with a large video monitor.
By 9 a.m. Jan had shifted gears to become the group's guide through the experience they were about to share. With an arsenal of funny stories, the retired teacher guided them with what is expected of them, the dos and don'ts of what they should do, can't do, will never do and before you turn around she has entertained us, informed us and allowed us time to study our Sunday School lesson.
Promptly at 9:50 the back doors of the Maranatha Baptist Church sanctuary opened and while she is finishing her presentation in steps Secret Service men in suits and the Sunday School teacher – former President Jimmy Carter. Carter spends a few minutes finding out where guests are from and then delves deeply into this week's lesson on King Solomon – the Queen of Sheba.
Engaging the class, he probes for the interaction, thoughts and answers as he expertly walks the attendees literally from around the world through the lesson. While I had known Jimmy since childhood when my parents supported his campaign to become Georgia's governor and later U.S. president, and later performed for he and his family, this was my first time to study God's word under his tutorage.
It was an amazing experience that I will cherish among my Carter memories. As he drew his message to a close, I got up from the seat he would that he and former First Lady Carter would occupy to begin my final sound checks before beginning to share some of my funny stories and music at 10:52.
I shared comedy and music from my upcoming CD "Keep 'Em Smilin'" before turning worship over to Pastor Jeremy Shoulta and we spent the next hour in a fast-paced mix of small town worship shifting flawlessly between my features, the pastor with his finely-tuned sermon "Why Sing" based on Colossians 3:12-17, and music leader Danny Ariail and the talents of organist Carol Anderson and pianist Jan Williams, who put on yet another hat with these talents, with four hymns.
The only flaws were in my own offerings but God even allowed me to turn those to His glory through comedy.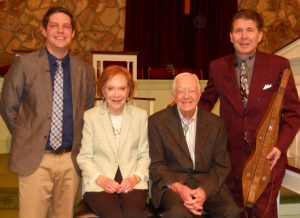 As we finished in worship, I was able to once again shake hands with both the Carters, a greater honor since that is now not the norm to protect their health. Reconnecting with an "old friend" as Jimmy said when he first saw me in class made this very special to me. I have been honored to include many of the presidents and first ladies among those who care about some aspect of my entertainment career, but the Carters have always been the closest, perhaps because we are all Georgians.
After I got my gear loaded, I was then invited to join the Carters at a wonderful reception sponsored by the National Park Service at the former Plains School where Jimmy received an award honoring his contributions to our national parks. National Park Service Director Jon Jarvis presented the award making him an honorary Park Ranger – hat and all.
During his presidency, Carter protected and designated acreage equal in area to the size of Minnesota into the National Park system.
I spent a little more time walking the streets of Plains, visiting the Main Street businesses such as the Plains Inn and Bobby Salter's Plains Peanuts. Once again I stood where I had performed and long ago waved to cheering fans along its streets.
I am glad I got to once again visit Plains (http://www.plainsgeorgia.com/), I hope you will take the opportunity to do the same. If you want to visit, Maranatha, visit http://www.mbcplains.org/.  While you are in the area, visit Andersonville (http://www.andersonvillegeorgia.com/) as well.
https://www.randallfranks.com/wp-content/uploads/2015/08/Southern-Style-by-Randall-Franks-200x200.jpg
200
200
Randall Franks
https://randallfranks.com/wp-content/uploads/2015/12/r-franks-logo-1.png
Randall Franks
2016-04-27 02:46:45
2016-04-26 02:55:55
A country church where the world meets to worship