Actor
Randall Franks began his fascination with acting as a small child watching television and seeing films by the greats of Hollywood, Bing Crosby, Bob
Hope, Jack Benny, Jimmy Durante, Gary Cooper, John Wayne and Jimmy Stewart.
His desire to perform on television came initially as he watched Lester Flatt and Earl Scruggs on "The Beverly Hillbillies," The Dillards as "The Darlings" on "The Andy Griffith Show," and Wayne Newton on "The Jack Benny Show."
He made his first TV appearance at the age of six on the "Tubby and Lester Show" on WXIA in Atlanta, Ga.
He appeared in plays and skits throughout his primary and secondary education while his music career opened several opportunities to appear on television including shows such as "Mountain Music Showdown," "Country Kids TV Series," "Huff Cook Gospel Sing," "Tonight at Ferlinghetti's" and others.
When members of his teenage band The Peachtree Pickers took separate paths at college, Franks decided it was time to pursue his interest in acting.
He began acting classes and soon appeared as an extra as a wealthy wrestling enthusiast in the Hulk Hogan film "No Holds Barred," and as a sports reporter in the film "Blindside" starring John Beck and Gail Strickland. Using his musical credits, he landed an uncredited role as a teenage high school choir singer in "Desperate for Love" with Christian Slater, Brian Bloom and Tammy Lauren.
He soon landed the role of TV's "Officer Randy Goode" on the hit series "In the Heat of the Night," where he appeared for five years on NBC and CBS and seen in 150 countries around the world.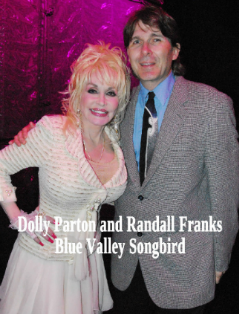 Franks has appeared in numerous films since including Hallmark Hall of Fame's "The Flamingo Rising" co-starring with Academy Award winner William Hurt as "Officer Randy Kraft." He starred in the sci-fi thriller "Phoenix Falling" with Stella Parton, in the Vietnam War era action adventure "Firebase 9." He also made a special appearance in Dolly Parton's "Blue Valley Songbird" for Lifetime.
Franks hosted and directed the PBS documentary "Still Ramblin'" highlighting the life of Georgia singing cowboy and early Grand Ole Opry star Ramblin' "Doc" Tommy Scott.
Throughout his career he has appeared as himself on numerous national, regional and local television and cable productions sharing his love of the traditional music of his home state of Georgia and his passion for the various charitable efforts that he champions.
Randall took a hiatus from acting from 2001-2009 and today he continues to pursue roles in family oriented productions that reflect his deep faith in the uplifting power of entertainment to inspire respect and hope.
Upon returning to his work, Robert Townsend cast him as a regular in his TV series the "Musical Theater of Hope" which aired on the UPtv (Gospel Music Channel).
Since then he returned to film starring initially in "Decision" with Natalie Grant and Billy Dean, then the children's adventure "The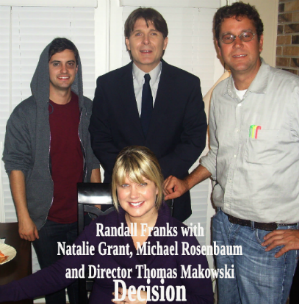 Solomon Bunch," and "Lukewarm" with John Schneider, Bill Cobbs, Jeremy Jones and Nicole Gale Anderson. 
He served as the on set Appalachian musical consultant for director John Hillcoat for his period film "Lawless." He brought together the Cornhuskers String Band to include actress Mia Wasikowska. Franks appeared fiddling in the promotional trailer for the theatrical release.
He portrayed investigator "Marv Headly" in  his latest film "Broken" starring with Soren Fulton, Felix Ryan, Bailey Borders and Joe Stevens.
See Acting Demos on IMDB:
Lukewarm:
http://www.imdb.com/video/demo_reel/vi748988185/
Decision:
http://www.imdb.com/video/demo_reel/vi677486105/
Musical Theater of Hope:
http://www.imdb.com/video/demo_reel/vi2794232601/
Independent Country Music Hall of Famer performs:
http://www.imdb.com/video/demo_reel/vi2968754969/
In the Heat of the Night
http://www.imdb.com/video/demo_reel/vi3649870617/
Additional Heat clips available upon request
For additional musical performances and news interviews from throughout his career visit
Randall Franks TV on YouTube.
http://www.youtube.com/randallfranks
Acting Representation:
1. Georgia, Alabama, North and South Carolina
The Houghton Agency
Houghton Talent, Inc.
919 Collier Road NW
Atlanta, Ga. 30318
(404) 603-9454 fax 9456
[email protected] www.houghtontalent.com
2. Tennessee, Kentucky, Mississippi, Louisiana, Virginia, Florida, Los Angeles and New York
The Avenue Agency
521 8th Avenue S Ste 300
Nashville, TN 37203
615.293.9648
[email protected]