Author/actor Randall Franks said he hopes the second in his Encouragers book series will help people reach out to others.
"Encouragers II: Walking with the Masters," released this month worldwide from Peach Picked Publishing, shares 49 stories of actors, musicians and everyday folks who played a role in Franks's life.
The first of the series "Encouragers I : Finding the Light" was released last year.
"God sometimes gives to each of us a nudge or push along a path through those he sends into our lives," he said. "My professional path starring ontwo American television networks or guest starring for the Grand Ole Opry would not have been possible without receiving even the least of these nudges.
"Even when we do not realize it, there are those behind the scenes who open doors," he said. "This book shares the stories of people who were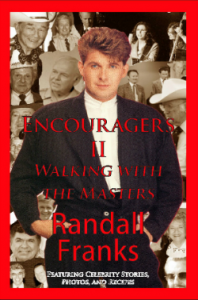 masters of their endeavors and decided to reach out and make a difference. Don't miss your chance to change a life by sharing your encouragement with someone else."
The second volume highlights performers such Grand Ole Opry star Roy Acuff;
American icons Roy Rogers, Carroll O'Connor and "Dallas" legend Larry Hagman; country music masters Porter Wagoner and the Whites; bluegrass hall of famers Jim and Jesse McReynolds and Bill Monroe; and heralded gospel music performers Dottie Rambo, Hovie Lister and Bill Gaither.
Franks said that true masters who share their knowledge, skill, hopes and dreams can fuel destinies not even dreamed by the recipients. His book features narratives about and interviews with those who contributed to the direction ofhis career.
Franks, who is best known as "Officer Randy Goode" from the TV series "In the Heat of the Night," starred in three series and 14 films. He became a country music personality as a youth beginning appearances at major country, folk, bluegrass and gospel events such as Country Music Association
Fan Fair, National Folk Festival, National Black Arts Festival and for the Grand Ole Opry. With 21 career albums in four genres, he has performed to over 145 million fans around the world. Musically, he is recognized as an International Bluegrass Music Museum Legend and Independent Country Music Hall of Fame member. He is a syndicated columnist featured in newspapers across the Southeast and Midwestern U.S.
The 344-page book includes over 301 photos including 158 special Moments in Time photos featuring over 100 stars from Charlie Daniels to William Hurt, Jeannie C. Riley to Tanya Tucker from Randall's personal collection and 51 celebrity, family and friend recipes.
The book is available for order in the Website Store for $25 including postage and handling, in Fort Oglethorpe at Sonshine Christian Books, or in Ringgold, at Cottage Treasures or Uniktings! and through book outlets around the world.
https://www.randallfranks.com/wp-content/uploads/2016/01/48e1c95142c453ef34b259d6f1da4958_0w27_p5r9-e1467605501644.png
126
150
Randall Franks
https://randallfranks.com/wp-content/uploads/2015/12/r-franks-logo-1.png
Randall Franks
2015-05-01 19:29:26
2016-04-26 03:20:48
Actor/entertainer Randall Franks features amazing stories of giving Encouragement in latest book