Entertainer/actor Randall Franks reflects on his musical successes by defining a special purpose for his recordings with a special CD series.
"Randall Franks: 30 Years on Radio and TV Volume I," released this month worldwide from the Share America Foundation in cooperation with Crimson Records, shares 23 Christian music and comedy recordings that helped Franks make a mark on radio or TV.
"God allowed me to sing and play some of the most inspiring and uplifting songs thus far during my career," he said. "Radio and TV listeners responded time and time again helping create sellers that helped me climb the charts. I am honored to look back at the hours of recordings and select some of the best for these collections donating the use of the masters for these CDs to help us encourage a new generation of Appalachian singers and musicians through college scholarships."
Monies received from the CD will help to fund the Pearl and Floyd Franks Scholarships awarded annually by the Share America Foundation, Inc., a Georgia 501-C-3 based in Catoosa County, Ga.
Franks became the first solo bluegrass artist to reach the top rankings of the Christian music sales charts with his "Handshakes and Smiles" in 1990 forging new ground and opening new sales outlets for tradition artists to share their music. He created a partnership at Benson with the late producer Norman Holland, garnering turntable hits including the Telly Award nominee "Handshakes and Smiles," "He's Never Gonna Fool Me Again," "You Better Get Ready," "Pass Me Not" and "Rock of Ages." He then solidified a presence in traditional gospel music through a long-lasting association with producer Chris White and Sonlite Records producing numerous radio and sales successes.
"When I started out, I was so blessed to have the support and encouragement of so many of the Christian music industry's leaders," Franks said, "Their help made the journey so much easier and definitely more fun."

God's Children with Randall Franks and the Watkins Family (Randall Franks and Cotton Carrier/Peach Picked Publishing/BMI)
The first volume of 30 Years highlights some key songs which charted, were broadcast around the world or received award nods in various genres of Christian music. Many recordings feature collaborations between Franks and current or past genre stars, many of whom are now members of their respective music halls of fame.
"I performed with so many stars in my career and I am so honored that many of them came into my life helping me create the sound and the songs that folks listened to through the years," Franks said. "Nothing I have done would have been possible without their contributions."
Sonny Shroyer, "Enos" from "The Dukes of Hazzard," joined Randall Franks to record "Children in Need" in 1999 for the CD "God's Children" bringing the classic recitation performance to radio around the world.
Nine of the songs included were authored or co-written by Franks such as his "Now I Know," popularized by the Marksmen Quartet, "God's Children" written by Franks with Georgia Music Hall of Famer Cotton Carrier, or "Children in Need" recorded with "The Dukes of Hazzard" star Sonny "Enos" Shroyer and bluegrass star David Davis. Nine of the recordings are church standards such as "Amazing Grace" performed with bluegrass banjo legend Raymond Fairchild, "In the Garden" with Southern gospel stars Voices Won, or his international hit of "Beautiful Star of Bethlehem." The remainder are popular hits in their respective gospel sub-genres.
Among the other notable award winners included performing with Franks are the Carol Lee Singers, Darrin Chambers, David Davis and the Warrior River Boys, Doodle and the Golden River Grass, Jerry Douglas, Jeff & Sheri Easter, Steve Easter, Travis Lewis,  Lewis Phillips, "Doc" Tommy Scott, Gary Waldrep, The Watkins Family, Mark Wheeler, and Grand Ole Opry stars – the Whites.
Other recordings featured include: "You Gotta Know the Lows," "I'll Meet You in Church Sunday Morning,""Must Be A Reason," "Meeting in the Air," "Leaning on the Everlasting Arms," "This World Is Not My Home," "Building On Sand," "He's Never Gonna Fool Me Again," "Rock of Ages," "Letter from Down Home," "This Little Light of Mine," "Gloryland March," "Who Do You Think," "Precious Memories," "The Pilgrimage to Bethlehem," and "Let's Live Every Day Like It Was Christmas."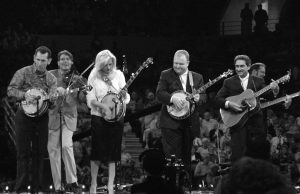 Fiddler Randall Franks (second from left) appears with the National Quartet Convention All-Star Band in 2009 for an INSP TV special with from left, Tim Lovelace, Lorie Watkins, Jeff Tolbert, Mike Riddle, Randy "Scoot" Shelnut, Jr. (Photo by Regina Watkins)
Franks, who is best known as "Officer Randy Goode" from the TV series "In the Heat of the Night," starred in three TV series and 15 films. He became a country music personality as a youth beginning appearances at major country, folk, bluegrass and gospel events such as Country Music Association Fan Fair, National Folk Festival, National Quartet Convention, National Black Arts Festival and for the Grand Ole Opry. With 24 career albums in four genres, he has performed to over 145 million fans around the world. Musically, he is recognized as an International Bluegrass Music Museum Legend and Independent Country Music Hall of Fame member. Among his many awards are multiple ASE Bluegrass Band of the Year awards and numerous contributory nominations for SPBGMA Traditional and Contemporary Bluegrass Gospel Band of the Year. He appeared repeatedly as part of NQC All Star Band. He is a syndicated columnist featured in newspapers across the Southeast and Midwestern U.S.


This Little Light of Mine Randall Franks with David Davis and the Warrior River Boys (Randall Franks/Peach Picked Publishing/BMI)
"Randall Franks: 30 Years on Radio and TV Volume II," featuring an Americana, country, folk and bluegrass hits collection, is expected for release in late November also benefiting the scholarship.
The CD is available for a donation of $14 at http://shareamericafoundation.org.
https://www.randallfranks.com/wp-content/uploads/2015/12/Randall-Franks-News-Updates-200x200.jpg
200
200
Randall Franks
https://randallfranks.com/wp-content/uploads/2015/12/r-franks-logo-1.png
Randall Franks
2016-09-22 02:40:13
2016-09-20 03:34:48
Actor/Entertainer Randall Franks's musical milestone benefits next generation