Order Randall's New T-Shirt
The American's Creed
A minimum of 20 Advance Orders will be accepted before production.
If not reached by May 30, orders will be refunded.
These patriotic shirts commemorate his upcoming film and music project.
Appalachian and Bluegrass Music
2020 AirPlayDirect Evolution Grant Artist
International Bluegrass Music Hall of Fame Legend
Randall shines as one of bluegrass music's brightest stars since stepping onto the international music stage in 1983. When performing, the champion fiddler, Male Vocalist of the Year, and Songwriter of the Year also shares his talents on mandolin, guitar and mountain dulcimer. Randall was honored as an International Bluegrass Music Museum Legend in 2010;  inducted into the Atlanta Country Music Hall of Fame in 2004 and the Independent Country Music Hall of Fame in 2013 and his Georgia Music Hall of Fame exhibit debuted in 1996.
AirPlay Direct selected him as the first "2020 Evolution Grant Artist."
"We believe in the determination of our industry to not only survive this tragic time, but to evolve, learn and grow during the process," says Lynda Weingartz / CEO – AirPlay Direct. "Our new "2020 Evolution Grants" program was created to support, educate and enrich the global music community, both artists and small businesses alike. Randall is a gifted artist and we are proud and honored to be working with him to help grow his brand and career."
Radio may reach links to many of his albums to download for airplay at www.AirPlayDirect.com/RandallFranks/
As a child, Randall was initially exposed to the rich heritage of Georgia fiddlin' at family reunions. Randall's desire to learn was sparked at the age of eight when he heard the "Orange Blossom Special." He was inspired to study both classically with Donald Grisier, Ph.D. and at the feet of some of Georgia's fiddle legends such as the Skillet Licker Gordon Tanner, WSB Barndance host Cotton Carrier, Anita Sorrells Mathis and Dallas Burrell.
While still in school, Randall formed the children's bluegrass band The Peachtree Pickers. It was through this act that he gained attention from national acts and television becoming a regular on the "Country Kids TV Series" and appearing for the Grand Ole Opry. The group recorded five studio albums, and one live album. Randall's youthful musical adventure (1977-1987) ultimately featured 25 youth. The group won the Georgia State Bluegrass Band Championship in 1985 among numerous individual titles.
Randall founded the SouthEastern Bluegrass Association (SEBA) in 1984 to preserve, promote and publicize Bluegrass Music along with five other bluegrass performers and enthusiasts. Through the organization which has grown to one of the country's largest serving seven chapters with members in eight states, he supported the creation of the International Bluegrass Music Association (IBMA).
In the 1980's, The Father of Bluegrass Bill Monroe took a special interest in the young band and especially the young fiddler. Monroe spent hours teaching and sharing with Randall much like Monroe's Uncle Pen had done for him. With the 1984 departure of Kenny Baker, Randall was asked to join the Blue Grass Boys. Still in school, he took off to tour from coast to coast. Though school beckoned him back, Randall continued to make appearances with Monroe up until the country, bluegrass, rock and roll and songwriter hall of famer stopped touring.
While in college, Franks became part of the cast of the WRFG radio show "The Bluegrass Festival," hosted by T.P. and Sandra Hollomon. As part of the highest-rated bluegrass show in the Atlanta market, Franks participated on the weekly broadcast and occasionally filled in for the hosts. He also from time to time, hosted his own shows on WRFG. In the early 1990s, he hosted "Sacred Sounds" featuring bluegrass gospel on WGFS in Covington, Ga. and in the 2000s launched a popular show on WBFC in Boynton-Ringgold, Ga.
With more than 250 recordings to his credit, his music has brought him on stage or in the studio to perform with entertainers in a variety of music fields including these from the field of bluegrass:  Bill Monroe; Jim and Jesse; Ralph Stanley; Raymond Fairchild; Jimmy Martin; Mac Wiseman; Chubby Wise; Josh Graves; Doug Dillard; Jerry Douglas; Sam Bush; The Whites; Ricky Skaggs; The Lewis Family; The Isaacs; Byron Berline; Brushfire; The Morningsiders; The Warrior River Boys; The Sand Mountain Boys; The Gary Waldrep Band; The Cox Family; The Primitives; Charlie Cline; The Sidemen; The Watkins Family; Elaine and Shorty; "Doc" Tommy Scott's Last Real Old Time Medicine Show and The Blue Grass Boys.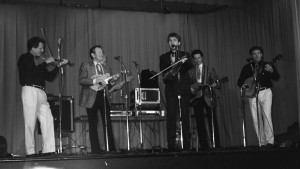 From a list of 33  IBMA Bluegrass Music Hall of Fame inductees, Franks served as music producer to nine; studio musician recording with nine; band member for three; star with four performing behind him on his own stage show; guest star performing with two on their stage show; producer of bluegrass events featuring four; administrator of  musical licensing and publishing for six; director of a PBS documentary including four, media relations representative for two; award-winning print media journalist and radio host interviewing and/or featuring the work of 25; and writer for one. Randall has also served as a producer/director, and presenter of portions of the annual IBMA Awards.
Randall was also tapped by two other nationally known performers: Folk Music's Doodle and the Golden River Grass, with whom Randall carried on the Georgia Fiddle Band tradition; and multi award winning bluegrass gospel group, The Marksmen Quartet.
With comedian and single-note harmonica stylist John "Doodle" Thrower leading the way Randall joined clawhammer banjo stylist James Watson, Wesley and C.J. Clackum and Gene Daniell sharing Georgia's music from the National Folk Festival to National Public Radio and PBS. He recorded six albums with the group from 1985 until Doodle's death in 1994.
He recorded five albums with three-time Dove Award nominees and multiple SPBGMA award winners The Marksmen Quartet from 1985-1991.
Randall joined The Marksmen— Earle Wheeler, Mark Wheeler, Keith Chambers, Darrin Chambers and Rob Gillentine to record the Marksmen's second Morning Star album "Cookin' Now" from 1986 at the Oak Ridge Boys studio in Nashville, Tenn. Producer Eddie Crook played piano, Mike Johnson played steel and Dobro and Gene Crisman played drums.
From that project single releases included "What Would You Think of Him" (chart #51), "Angels Walking Around" (chart #61) and  "Train Song #1."
While the Marksmen on a touring level stepped away from the Southern Gospel arena to become the first all male gospel quartet in Bluegrass and included among the top groups of Country Gospel.
The group moved to MBM Records in Atlanta, Ga. for his next project in 1988 where Randall served as A & R Director, "Back to Basics." Recorded at Perfection Sound Studios in Smyrna, Ga. Kingsmen owner Eldridge Fox produced and made a special appearance on the project. Many time Singing News Musician of the Year and Gospel Hall of Famer Steve "Rabbit" Easter, served as engineer and played several instruments.
From this record Earle and his group finally broke the Top 80 on the Singing News charts with Mark's original song "Meet Me in Heaven," which reached the top 40 on the U.S. Gospel Music News charts.
Randall arranged for The Marksmen  to appear with him for the Grand Ole Opry in 1987 at its 62nd birthday celebration. Randall began appearing for the Opry with his own Peachtree Pickers in the early '80s, when group members left to go to college in 1987, he saw it as a perfect opportunity to showcase The Marksmen. That fall the group also received its first cover feature on the Singing News magazine, The Printed Voice of Gospel Music.
The Marksmen were featured on the Legends of Bluegrass Show by the International Bluegrass Music Association at its Fan Fest event in 1988 along side Bill Monroe, Ralph Stanley and other notable trendsetters. The group also saw its first inclusion on the cover of Bluegrass Unlimited magazine, considered the industry standard.
Franks also appeared adding musical and vocal features to the show and on recordings intermittently after the fall of 1988 as he added to his resume his role as internationally known actor joining the cast of TV's "In the Heat of the Night" as "Officer Randy Goode" and returning to his own solo career.
Old Homestead of Brighton, Michigan released the group's next project "Nothin' Fancy" recorded at Treetop Studios at Bremen, Ga. It was followed by "Southern Gentlemen" recorded in part Treetop Studios at Bremen, Ga. and Wayde Powell's studio at Young Harris, Ga. Randall appeared on both.
Randall saw a bluegrass void in some areas in his home state of Georgia so in the mid 1980s he began promoting bluegrass concerts using regional talent in communities that did not have bluegrass events nearby to increase the visibility of the field outside bluegrass festivals. He carried this endeavor one step farther during his off time from "In the Heat of the Night" when he began the "Share with D.A.R.E." (Drug Abuse Resistance Education) concert series held in communities in several states featuring acts including Jim and Jesse, The Lewis Family, the Osborne Brothers himself and others. The shows showcased bluegrass stars while raising awareness and funds for a program to help keep children off drugs.
Randall joined in echo with fellow Marksmen Earle Wheeler that the bluegrass industry needed a monthly music chart similar to that in Southern Gospel to allow an opportunity for music and artists to be rated and promoted to radio and retailers. He was among those urging this as a viable growth option for the industry to allow new artists to rise in the ranks. Both he and Wheeler were among those who encouraged Bluegrass Unlimited to pursue this objective.
In 1989, Randall released "Golden River Fiddlin'" to the Folk and Bluegrass markets. SPBGMA, the Society for the Preservation of Bluegrass Music in America, said Randall had a "Special Touch on the fiddle" while Bluegrass Unlimited called him "Hard Driving…Straightahead..Solid…Sure" like Tommy Jackson and Paul Warren.
Randall studied commercial music while pursuing his bachelor's degree in business administration at Georgia State University. Upon graduation, he entered a position as Sales and Promotions Manager for Atlanta based MBM Records. He quickly discovered that independent bluegrass and gospel music recordings were difficult to market amongst mainstream retailers but he set out to make the music he loved available in as many outlets as he could.
As he rose in popularity on television, he used his celebrity status to break down the barriers that he previously faced as a record executive and many other bluegrass and gospel artists encountered by calling mainstream and Christian retail buyers and store managers directly using his podium from NBC and CBS to assist record companies and distributors in marketing his and other bluegrass and gospel product.
Through the effort his products and many other artists sold by the companies he worked with became available in record chains throughout the country.
At a time when the industry was made of largely of established stars rather than rising new performers, Franks joined fellow rising star Alison Krauss as the most visible fiddlers and personalities of the industry in the late eighties and early nineties.
As TV's "Officer Randy Goode" on the hit series "In the Heat of the Night," he appeared for five years on NBC and CBS and seen in 150 countries around the world joining the ranks of his musical heroes Lester Flatt and Earl Scruggs and the Dillards becoming one of a distinguished class of bluegrass stars sharing musical talents on network television within the context of a dramatic or comedic role.
Franks has shared his musical talents  in numerous TV shows and films including in the Vietnam War era action adventure "Firebase 9," in which he performed on his fiddle an original tune entitled "Cascade." He also made a special appearance in Dolly Parton's "Blue Valley Songbird" for Lifetime performing the classic "Boil Dem Cabbage Down" with co-star Sam Bush. Franks began his movie career with a singing role in the movie"Desperate For Love" with Christian Slater. He performed the Carter Family song "Will the Circle Be Unbroken." He created the Appalachian string band – Randall Franks and the Cornhuskers String Band for the 2012 film "Lawless" which included film star Mia Wasikowski.
With Randall's widespread notoriety he gained by weekly network exposure, he worked to expose bluegrass and Southern Gospel to this new audience appearing on radio and television talk, news and entertainment shows. Randall continues to appear on radio stations in all formats, television stations throughout the country, gives countless print interviews talking about and sharing the music he loves.
He also carried this message to America's youth as an Honorary D.A.R.E. Officer appointed by the National Dare Officers Association, he has appeared for more than 10,000 students across the country to encourage them to live a successful drug-free life while also sharing his love of bluegrass music to a new generation of listeners. He coordinated a nationwide radio campaign featuring Alan Autry, David Hart and himself to encourage a drug-free life.
Randall began the 1990's as he crossed over to the Southern Gospel market being the first bluegrass performer to take his solo music project "Handshakes and Smiles" to the Top 20 Sales Charts. Singing News gave the recording "Four Stars" and the Telly nominated "Handshakes and Smiles" video of the song played extensively on country, bluegrass and gospel video shows.
Serving both as an artist and producer, he was able to include many of his music heroes on the "In the Heat of the Night" "Christmas Time's A Comin'" CD released on MGM/UA and Sonlite. The project was one of the most popular Christmas releases of 1991 and 1992 with Southern retailers.
In addition to his own concert and personal appearances in the early 1990s, Randall became part of the Grand Ole Opry's Jim and Jesse Show in 1990 appearing at concerts and festivals intermittently with the bluegrass Hall of Honor members until 1996.
Franks formed his Hollywood Hillbilly Jamboree in the early 1990s, bringing his unique style of bluegrass into fairs, festivals and communities not normally including bluegrass in their annual celebrations. His show packages included a variety of stars, one of those casts were Donna Douglas, "Elly Mae Clampett" of "The Beverly Hillbillies," Sonny Shroyer "Enos" from "The Dukes of Hazzard" and himself. Another television commercials package featured Dan Biggers "Doc Robb" from TV's "In the Heat of the Night." Other musical acts that appeared with his show include David Davis and the Warrior River Boys, Gary Waldrep, Ryan Robertson, Barney Miller, James Watson, Danny Bell, Bill Everett, Gilbert Hancock, Sue and Kim Koskela, Roger Hammett, The Sand Mountain Boys, The Dowden Sisters and others. At one South Carolina event alone over, 30,000 people came out to see the show and his show was the only featured attraction.
Both his "Sacred Sounds of Appalachia" (1992) and his "Tunes and Tales from Tunnel Hill" (1995) were among the top thirty bluegrass recordings of the year. His "Let's Live Everyday Like It Was Christmas" single with Grand Ole Opry stars The Whites was given a nod as one of the top Country Vocal Collaborations.
Randall was tapped to host the SPBGMA Bluegrass Music Awards in Nashville, Tenn. at the Roy Acuff Theater in 1995. He presented Del McCoury his Male Vocalist of the Year Award at the IBMA Awards in Owensboro, Ky. in 1992.
In addition to his schedule, Randall began working with Ramblin' "Doc" Tommy Scott in 1995. While he worked on the sets of "Grace Under Fire" and "Foxworthy" in Studio City, Calif., he arranged for "Doc" Tommy Scott's Last Real Old Time Medicine Show with its unique bluegrass flavor to perform at celebrations during the 1996 Atlanta Olympics. A veteran 1940s Grand Ole Opry comedian, Scott joined Franks on his 1999 "Comedy Down Home" on Crimson Records. The duo co-wrote the 1999 Lewis Family hit "You Can't Stop Time." Scott founded the original Hollywood Hillbilly Jamboree in 1945. Each has appeared on the others' stage shows.
Franks hosted and directed the PBS documentary "Still Ramblin'" highlighting the life of Georgia singing cowboy and early Grand Ole Opry star Ramblin' "Doc" Tommy Scott. He also co-authored "Snake Oil, Superstars and Me" with the legendary country music and western film star "Doc" Tommy Scott and Shirley Noe Swiesz released in June 2007. The 700-page autobiography provides a unique look at 90 years of entertainment from the back roads of Georgia to the Grand Ole Opry and Hollywood where Scott was a television pioneer.
His Crimson CD "God's Children" (2001) paid homage to the brother duets of the 1930's. The project includes appearances by David Davis, Sonny Shroyer, "Enos" from "The Dukes of Hazzard," the late Cotton and Jane Carrier, and Marty Hays. The single "Children In Need," co-written by Franks and Tommy Scott, featured a performance with Sonny Shroyer reminding listeners of the importance of helping the children in one's community through a whimsical tale told by "Ollie the Old Church Owl" portrayed by Shroyer.
Randall has been honored with countless awards including The Fiddlin' John Carson Award, A.S.E. Male Vocalist of the Year, The Cotton Carrier Award, S.A.R. Citizenship Award. The Governor of Kentucky honored him for his contributions to the music of Bill Monroe. He has performed at thousands of events and television shows including most of the leading Bluegrass Festivals, fairs such as The National Folk Festival, National Black Arts Festival, Georgia Mountain Fair, ACM Fan Fest, CMA Fan Fair, Grand Ole Opry, Fiddlin' Fish Music and Arts Festival, The Grand Masters, Command Presidential Performance, Nashville Now, Crook and Chase, Miller & Company, Reno's Old Time Music Festival and HGTV's Extreme Homes.