I don't know whether you enjoy riding across the ranges in the old western films with the stars of yesteryear like I do or not but I have since I was chasing the neighborhood outlaws in my dime store cowboy suit.
Now I must admit probably with the exception of Dale Evans in those early days it was the action on the television screen I wanted to see. Like must youngins, I looked at scenes between the leading cowboy and cowgirl as just something to sit through until the next gun fight, horse chase or fist fight so I seldom paid much mind to the leading ladies.
I must say the exception to that rule was the late Carolina Cotton whose shear presence in a film demanded your attention, whether it was her beauty on the screen, her down-home appeal, or the fact she could ride, sing, and yodel circles around many of her co-stars, she simply charmed her way into your heart.
Her energy on screen was contagious especially when she was singing one of her yodeling songs such as "I Love to Yodel" which she sang in several films including "Apache Country" with Gene Autry or "Yodel, Yodel, Yodel" from Autry's "Blue Canadian Rockies."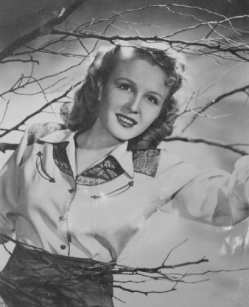 She also did several films with my friends the late Ken Curtis ("Song of the Prairie," "Stallion Canyon"), the late Roy Acuff ("Sing Neighbor Sing"). Other films co-starred actors such as Eddy Arnold, Charles Starrett, Smiley Burnette and others.
In the span of a just a few years she did 17 films and performed with some of the most influential bands in the Hillbilly and Western Swing genre including Spade Cooley's Western Dance Gang, Merle Travis, Bob Wills and the Texas Playboys, Sons of the Pioneers, Ernest Tubb and the Texas Troubadours, Ramblin' Tommy Scott and his Hollywood Hillbilly Jamboree and others.
The Arkansas native relocated with her family as they moved to California. She began her career on stage and then radio in San Francisco at an early age but soon found her way to Hollywood where film producers immediately recognized her talent and she soon rose to level of leading lady.
Sadly like many of their male counterparts by the mid 1950s the days of the old west for female leading ladies also rode off into the sunset in film and for most practical purposes mainstream western music stars were in the wagon train behind them.
Carolina's daughter Sharon Marie brought together a CD that highlights some of her recordings entitled "Carolina Cotton-Yodeling Blonde Bombshell – Volume II."
I was blown away by the clarity of sound in the 20 plus recordings from the 1940s-1950s.
The recording opens with Three Miles South Of Cash with Bob Wills and the enthusiasm continues through a fun-filled adventure down Western streets and hillbilly dirt roads as the musical sounds thrill and bring a smile. Among the recordings are Put Your Shoes On Lucy, Boo Hoo Blues, Lovin' Ducky Daddy, Hoosegow Serenade, I'd Love To Be A Cowgirl, Ragtime Cowboy Joe, Be Honest With Me, You Belong To My Heart, I Been Down In Texas, Yodel Mountain, The Old Square Dance Is Back Again, Chime Bells, You've Got Me Wrapped Around Your Finger, Glad Rags, I'm All Alone, He's A Tough Hombre, I'm Gonna Sit Right Down (And Write Myself A Letter), O Dem Golden Slippers, Oh Where Has My Little Dog Gone and Weary Lonesome Blues. The recording also includes one full episode of her Carolina Cotton Calls radio show.
One footnote to such a wonderful entertainment career is that Carolina left the spotlight, raised her family and decided to become a teacher and spent the rest of her life sharing her love of learning with thousands of young people.
If you are a fan of the great sounds of Western music that made the matinees and radio shows of the 1940s and 50s full of fun and enthusiasm, I encourage you to add this CD to your collection, it will certainly give you a look at one of the greatest yodelers who ever performed and from someone I understand to be one of the nicest individuals to ever grace a stage. You can get the CD or learn much more about her career from carolinacotton.org.
https://www.randallfranks.com/wp-content/uploads/2015/08/Southern-Style-by-Randall-Franks-200x200.jpg
200
200
Randall Franks
https://randallfranks.com/wp-content/uploads/2015/12/r-franks-logo-1.png
Randall Franks
2015-08-15 16:19:34
2016-04-23 00:40:49
Carolina Cotton's voice is still bringing smiles