James Watson appears on stage in at Vines Bluegrass Barn in Woodland, Ala. in the early 2012. (Courtesy James Watson Collection) 
James Watson performs Foggy Mountain Top with the Golden River Grass in 1985 on PBS show "Tonight at Ferlinghetti's."
I stood outside the front door of the Quattlebaum Funeral Home in Roanoke, Ala. and watched the hearse pull from the door, drive down the hill and turn left towards Rock Mills. About a dozen musicians had just fulfilled the wishes of country folk banjo legend James Watson sending him off with some of the finest banjo pickin', singin' and great stories of his life.
I aimed on loading up and starting back on the three-hour trip back home as soon as the procession was out of sight, but a missed turn carried me right by the cemetery in neighboring Rock Mills, and just before I drove by the bottom fell out of the sky and as I looked at those gathered around the tent, I just thought that God gave one last massive shedding of tears as they lowered one of the men that created such happiness with the talents God shared with him.
James was 81 and shortly after his passing I was called and texted that my former Golden River Grass band mate had finished his time among us. And what a time it was, he had appeared multiple times at America's National Folk Festival, National Black Arts Festival, 1982 World's Fair, 1996 Olympics, colleges, numerous bluegrass festivals and folk festivals. He was often seen on PBS in shows such as "Tonight at Ferlinghetti's" and the Alan Lomax production "The Appalachian Journey."
All of this from a man from an Alabama mill village who became a painter by trade but whose passion was music.
He became known as the hard-drivin' musical sideman spending over 20 years of his career with the last old time Georgia fiddle band to be recognized as part of that unique historical segment of the country music genre – Doodle and the Golden River Grass. The band which began as a square dance band in 1963, became a popular folk act featuring comedy, Appalachian folk songs and upbeat tunes centered around several fiddlers – Seals Hicks, Bill Kee, Paul Wallace, Randall Franks, and Jerry Wesley; John "Doodle" Thrower's harmonica; and beginning in the 1970s, Watson's clawhammer banjo. Other long-running band members were C.J. Clackum (guitar), Wesley Clackum (guitar and mandolin), the late Lynn Elliott (guitar), and the late Gene Daniell (bass).
His banjo-playing uncle, Jack Edmondson of Wedowee, Ala. was responsible for Watson becoming a banjo player. Watson began his professional entertainment career at age 11 in 1947 with fiddler with Pappy Lee (Farmer) and the Chillun' moving from banjo to play guitar appearing on WELR in Roanoke. As the children grew, the group became Pappy Lee and the Playboys in the 1950s. In his later career, the band Randolph County was among the acts with which he performed.
James said in an
April 2017 interview that he is amazed where his banjo took him.
"I have played for so many wonderful folks, been places an old country boy from an Alabama cotton mill village could never imagine," he said. "I knew that there was only one place for my banjo playing and that was with Doodle and the Golden River Grass. Our sound made people happy, whether we were on stage or in the parking lot jamming. It's amazing to think of millions of folks we reached."
James Watson (left) and Grandpa Jones appear on stage at a
bluegrass festival near Dover, Delaware in 1984. (Courtesy James Watson Collection)
Watson also said he was so honored that so many of his music heroes became lifelong friends.
One of those heroes was Earl Scruggs, who James met by chance in 1964, when he took a trip to Nashville, drove to Scruggs' home and found him standing by the mailbox.
"He turned out to be one of the friendliest fellows I've ever met," he said.
Watson said that visit gained him a tone ring from Scrugg's own banjo that added to the amazing sound which came from his 1950 Gibson bowtie banjo. On the same trip, Watson met the King of Country Music Roy Acuff and Grand Ole Opry star Bashful Brother Oswald.
He said the two gave him a chance to play "Shout Little Lula" on another hero's banjo, a museum piece of early WSM star Uncle Dave Macon.
His unique stylings drew the attention of numerous performers with whom he made major concert appearances including Country Music Hall of Famer Grandpa Jones who often asked Watson to join him for banjo duets.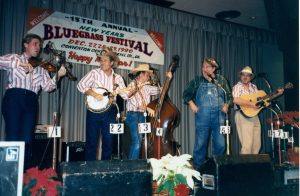 James Watson (second from left) appears on stage with the Golden River Grass from left, Randall Franks, Gene Daniell, Doodle Thrower and Wesley Clackum in 1990 at the Jekyll Island Bluegrass Festival in Georgia. (Courtesy Randall Franks Media: Ronald Stuckey)
Watson was often the punch line of the jokes shared by Golden River Grass front man "Doodle" Thrower, who died in 1994.
"Doodle was amazing at working a crowd, he brought a smile to everyone's face and shared the audience's love with all of us and especially with me with his jokes," he said. James Watson (second from left) appears on stage with the Golden River Grass from left, Randall Franks, Gene Daniell, Doodle Thrower and Wesley Clackum in 1990 at the Jekyll Island Bluegrass Festival in Georgia. (Courtesy Randall Franks Media: Ronald Stuckey)"We both grew up playing those old time tunes and when we got to going, me and him would stand for hours having a good time. It just made people's hearts want to dance. After Doodle went on, while the music was still there, it took so much away from what we did, it wasn't the Golden River Grass no more."
Watson's recording discography includes 17 albums with the Golden River Grass including the his "Mountain Clawhammer Way Down in the Country" released by Attieram in 1986 and my own Golden River Fiddlin'. Other collections including his work are the Grammy ® winning "The Art of Field Recording Vol. I" (2007), Vol. II (2009), and Sampler (2006) from Dust-to-Digital.
My fellow bandmate Wesley Clackum and I are working with Grammy-winning engineer Michael Graves to restore and compile a Golden River Grass anthology including James' popular banjo release.
James had an amazing ability to create a rhythm that allowed a fiddler to just go anywhere musically they could reach while he never veered or slowed his steam – 'no dragging' as he would say. He was original in what he did, always sharing an intensity and concentration that thrilled the audience. There was no one in folk, bluegrass or country who brought to the stage what he did.
His career is honored with a museum exhibit in his hometown of Roanoke, Ala. at the Randolph County Historical Museum. He also had a feature exhibit in the Georgia Music Hall of Fame in Macon, Ga. from 1996-2010 and was inducted into the Atlanta Country Music Hall of Fame in 2007.
Memorial gifts may be made to the Share America Foundation, Inc., (www.shareamericafoundation.org) P.O. Box 42, Tunnel Hill, Ga. 30755 for its Appalachian music scholarship.
https://www.randallfranks.com/wp-content/uploads/2015/08/Southern-Style-by-Randall-Franks-200x200.jpg
200
200
Randall Franks
https://randallfranks.com/wp-content/uploads/2015/12/r-franks-logo-1.png
Randall Franks
2017-06-14 06:00:56
2017-06-05 18:39:38
He came from Alabama with a banjo on his knee