About Share America Foundation, Inc.

Promoting the traditional music sounds of Appalachia in our youth is the major focus of the Share America Foundation, Inc., a non-profit 501-C3, operating from Catoosa County, Ga.
"Since our inception we have supported the college dreams of over 30 scholars and mentored numerous youth," said Randall Franks, president, former "In the Heat of the Night" co-star who played "Officer Randy Goode." "Through live performances combining youth performers with seasoned professionals sharing a lifetime of experience and encouragement; creating recordings featuring youth heard around the world, and adding to their life skills, our board strives to uplift and make a positive difference in Appalachia."
Franks' musical stylings have been heard in 150 countries and by more than 25 million Americans. The Atlanta Country Music Hall of Fame member's career boasts 21 album releases, 21 singles, and over 200 recordings with various artists from various genres. In addition to his solo career, Franks is a former member of Bill Monroe's Bluegrass Boys, Jim and Jesse's Virginia Boys and has performed with Jeff and Sheri Easter, The Lewis Family, the Marksmen, "Doc" Tommy Scott's Last Real Old Time Medicine Show and Doodle and the Golden River Grass.
Radio Programmers may find Randall's available music downloads through  http://AirPlayDirect.com/RandallFranks
in 2020, Hillbilly Love (www.HillbillyLove.com) joins Share America as a Charity Partner donating 10 percent of its profits to youth organizations like ours.
"CHRISTMAS TIME'S A COMIN" 
BY THE CAST & FRIENDS OF "IN THE HEAT OF THE NIGHT"
Producers Randall Franks and Alan Autry are pleased to announce the re-release of this Christmas classic by the cast and special friends of the award-winning TV show "In The Heat of the Night".
Franks and Autry joined forces under the banner of Autry-Franks Productions in 1990 to produce the charity "In the Heat of the Night" CD "Christmas Time's A Comin'" including the sounds of bluegrass, jazz, rhythm and blues, Cajun, country and pop.
"This is an amazing reflection on history and the many entertainment legends that came together and focused
their talent and fame for this very worthy cause, drug abuse prevention," said Lynda Weingartz, CEO – AirPlay Direct. "In this day and time, the world could use more collaborations of this nature."
AirPlayDirect.com/IntheHeatoftheNightChristmas
"In the Heat of the Night" is an American TV Drama Series set in the South which aired on NBC and CBS from 1988-1994 starring Emmy Winner Carroll O'Connor as "Chief Bill Gillespie," Academy Award nominee Howard Rollins as "Detective Virgil Tibbs" ("The Night Before Christmas") and an amazing ensemble cast. The show was syndicated to 150 countries around the world and airs daily to millions of viewers. NBC and CBS network stars joined country and bluegrass Hall of Famers to share their voices for drug abuse prevention on this project. This record created the first major bluegrass collaboration featuring legendary musical performers with a TV show cast.
"It is amazing to realize that 30 years has passed since as a young actor I walked onto the set of TV's 'In the Heat of the Night," said Producer/Artist Randall Franks. "Many radio stations have not had access to these classic tunes since its original release. I am pleased that it will now be available to our fans around the world who watched the show to reconnect to their memories of the fun we had together. I made some of the most amazing friendships and learned so much from my fellow cast. The experience of producing each of them and all the country, bluegrass and gospel friends who joined us for 'Christmas Time's A Comin' ' in the studio was a pivotal moment in my musical creativity.
Randall's further says, "Producing the legendary Emmy winner Carroll O'Connor, Academy Award nominee Howard Rollins and all my fellow stars from the show plus a long list of Country and Bluegrass Hall of Famers allowed me to spread my musical wings and learn anything you dream is possible in life," he said. "I am thankful that God placed Carroll and Alan Autry in my life to have such faith in me and that everyone was willing to donate their talents for charities encouraging the prevention of drug abuse."
Donate $20 or 25 below to receive the

"Christmas Time's A Comin'" CD
30th Anniversary Edition"Christmas Time's A Comin'" CD
featuring "In the Heat of the Night" cast and friends

Get yours today by donating to the Share America Foundation!
Share America is proud to work with Autry-Franks Productions to encourage youth to live a drug-free life.
Donating from U.S. $20
Donating outside the U.S. $25
Donate $15 to receive our 2019
"Americana Youth of Southern Appalachia" CD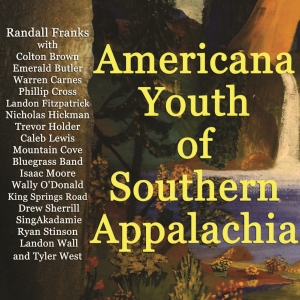 You may also download the project in its entirety from CDBaby.com, Apple ITunes, Amazon Music, Shazam and Google Music Store or send a $15 donation to Share America Foundation, Inc. P.O. Box 42 Tunnel Hill, Ga. 30755.
"Americana Youth of Southern Appalachia" is a collection of Americana, Bluegrass and Southern gospel music created by producer and Appalachian artist Randall Franks, "Officer Randy Goode" from TV's "In the Heat of the Night."  Randall Franks with Colton Brown, Emerald Butler,Warren Carnes, Phillip Cross, Landon Fitzpatrick, Nicholas Hickman, Trevor Holder, Kings Springs Road, Caleb Lewis, Isaac Moore, Mountain Cove Bluegrass Band, Matthew Nave, Wally O'Donald, Drew Sherrill, SingAkadamie, Ryan Stinson, Landon Wall and Tyler West with special guests Gospel Music Hall of Famer Jeff Hullender, Sheri Thrower and Tim Witt.
Click here to see video of the youth in the studio.
This 18-month project brought together youth musicians and singers, many of whom, never before entered a studio or recorded with other musicians. It features over 30 youth between the ages of 11 and 27 performing original songs, standards and some covers. The project benefits the 501-C-3 Share America Foundation, Inc. and it's Pearl and Floyd Franks Scholarship.
Share America Foundation, Inc.,  is honored that AirPlay Direct is joining us in a partnership on this project by providing professional support for the release and making the new music available to over 11,000 radio presenters around the world.
"This is such an incredible and important artistic project not just for current enjoyment, but it is already having a very strong, real-world effect on people of all ages and walks of life. A highly recommended listen," says Lynda Weingartz, CEO – AirPlay Direct.  
AirPlayDirect.com Radio Station Programmers may download by visiting:
http://AirPlayDirect.com/RandallFranks-AmericanaYouthOfSouthernAppalachia
"AirPlay Direct is giving these talented youth an opportunity to reach farther with their talents than we ever dreamed was possible," Franks said. "Radio friends have already took the project to the #2 slot on the APD Top 50 Daily Charts. We are so thankful of the support from Lynda and Robert Weingartz for opening amazing possibilities for all these youth."
Recordings included: It's A Hard Road to Make Love Easy, Baby's Coming Home, Been Gone A Long Time, Piano Man, How Could I Go?, What About All These American Flags?, The Star Spangled Banner, Wash Day, Old Spinning Wheel, Time for the Blues, Traveler's Lantern, Midnight Train, Filling the River with Tears, Someone Greater Than I, I Believe He Spoke to Me, When We All Get to Heaven and Blessed Assurance, Farther Along and I Want to Be Ready
Through a RoundUp grant from North Georgia Electric Membership Foundation we are forwarding physical copies of this CD to leading Americana, Bluegrass and Gospel music radio stations around the country.
Thanks also to the Kiwanis Club of Ringgold and the Wes and Shirley Smith Charitable Endowment for their support of our youth.
Other Share America Projects:
Our latest fundraiser is the DVD "Precious Memories" taped live at the Ringgold Depot in 2014 includes 18 performances including Randall Franks, Calvary's Blend, Cody Harvey, Butch Lanham, Tim Owens and Journey On, Ryan Stinson and Johnnie Sue. It is available as a gift for a donation of $20.
The "Mountain Opry Memories" CD was graciously donated by Tom Adkins and is available to receive by mail for a donation to Share America of $16. You can donate online on the Share America Gifts Page or send the donation to Share America Foundation, Inc. P.O. Box 42 Tunnel Hill, Ga. 30755.
The Board of Directors is elected annually.
"My brother Jerry (Robinson, Sr.) and I are extremely grateful that these talented civic-minded individuals have offered their time to serve and help us not only build the scholarship fund honoring our late parents through fundraising efforts but to guide the program as we seek our first scholarship recipients," Franks said. The organization oversees the Pearl and Floyd Franks Scholarship Fund, helping graduating seniors talented in the Appalachian musical arts to seek higher education. The fund is named for Franks' late parents, who helped manage his career. Candidates for the scholarship are accepted from Catoosa, Walker, and Whitfield counties in Georgia and Rhea and Cumberland counties in Tennessee and other areas from which the organization receives support.
Robinson is a retired fire department captain from Naval Air Station Pensacola. He currently serves as a team member with the Fraternity All Volunteer Retired Technical Servicemen, who take on service projects in the Molino, Fla. area. He served formerly as a board member for the Children's Fire Safety House serving throughout the panhandle of Florida. "Involving the community in the effort of helping youth with musical talents is a wonderful endeavor," he said. "While I never learned to play I know all the projects we will take on in the future will honor the legacy left by our folks."
Joining Franks and his brother on the Board of Directors are Gary Knowles, chairman; Jimmy Terrell, vice chairman, and James Pelt, secretary.
Gary Knowles is a retired businessman formally in the restaurant supply business. He formally served as lay leader at Ringgold United Methodist Church. He is active in several Catoosa County charities including Nourishing Children in Catoosa.
Jimmy Terrell is a retired Southern Baptist minister of 42 years of service and from the Georgia Baptist Convention as a state missionary after 26 years. He served in stewardship development and capital fund raising for churches and church financial services. "I am proud to be involved the Share America because I see the encouragement that it gives to young musicians in a career of music or other careers as they follow God's will for their lives," he said. "This is an encouragement that will last throughout their lives because someone believed in them. This is so important for young lives today in the world in which we live."
James Pelt is retired from Staples after 35 years of service, where he was an account manager. He moved here from his home town, Macon, GA in 2001 to manage accounts in the Northwest Georgia and Tennessee area. He currently serves as the new Lay Leader at Ringgold United Methodist Church and works as a volunteer in the Catoosa County COAD (Catoosa Organization Acting in Disaster, the long term disaster relief organization) since the tornado struck Catoosa in April of 2011. His civic interests have ranged from being a Boy Scout Executive Board member, assistant Scout Master and trainer of adult Scouts in Macon, to a former Lions Club member and a former Rotary Club member. "I am a big fan of all types of music, having played in my who are also musicians. My grandfather and one of my uncles were fiddlers. While I don't play now, I really enjoy gospel and especially bluegrass music and I have a large collection of music recordings of all genres to keep me entertained in my retirement. I think it is a special service to help young folks through the Share America Foundation who appreciate this special southern American music and continue the tradition by performing, so many more can enjoy and carry on the music tradition that so identifies our life style.Among those locally who have joined the task force and volunteers are David Carlock, Jill Clark, Jane Everett, Charles Lancaster, Linda Petty, Shirley Smith, Paul Stone, Karol Radovich, Ruth Worley, Maureen Turner, Kathy Liner, Millie Coleman and Waymond Watts.
"There is one thing I have learned about any philanthropic endeavor, it only becomes a success through the support of those wishing to donate their time, their hands and their hearts to make it one," Franks said. "I appreciate all those who are offering their support of our efforts."
We thank former Board Member Adam Cathey for his service as in various positions including Secretary and Member at Large 2006-2015.
We honor and remember our late board members:
Chairman Joe Turner who served from 2006-2014. Turner, who served on the Board of Governors of Lexington Shrine Hospital for Children in Kentucky. He spent much of his life helping children and one of his passions is encouraging young performers in their talents. He featured young performers at Alhambra Shrine Temple in Chattanooga where he served as birthday entertainment director. "I grew up in the midst of "My home region produced many talented performers such as Loretta Lynn, Patty Loveless, Ricky Skaggs, Keith Whitley, Hylo Brown, and Dwight Yoakum who all share a love for this wonderful American music," Turner said. "I am honored to play a role in encouraging new talents from throughout the South through this new organization and its scholarship."
Vice Chairman Gene Lowery, former Catoosa County Probate Judge, who served from 2006-2014. Lowery enjoyed a 20-year history of singing Southern gospel music. He also served on the Adult Protective Service Panel and Jack Mattox Golf Tournament Invitational Board. His thoughts about serving with Share America: "It is gratifying to know I'm in an organization working to help young people who are musically inclined further their education," he said. "The tradition of gospel and all the music of Appalachia are something we need to keep going and promoting to new generations."